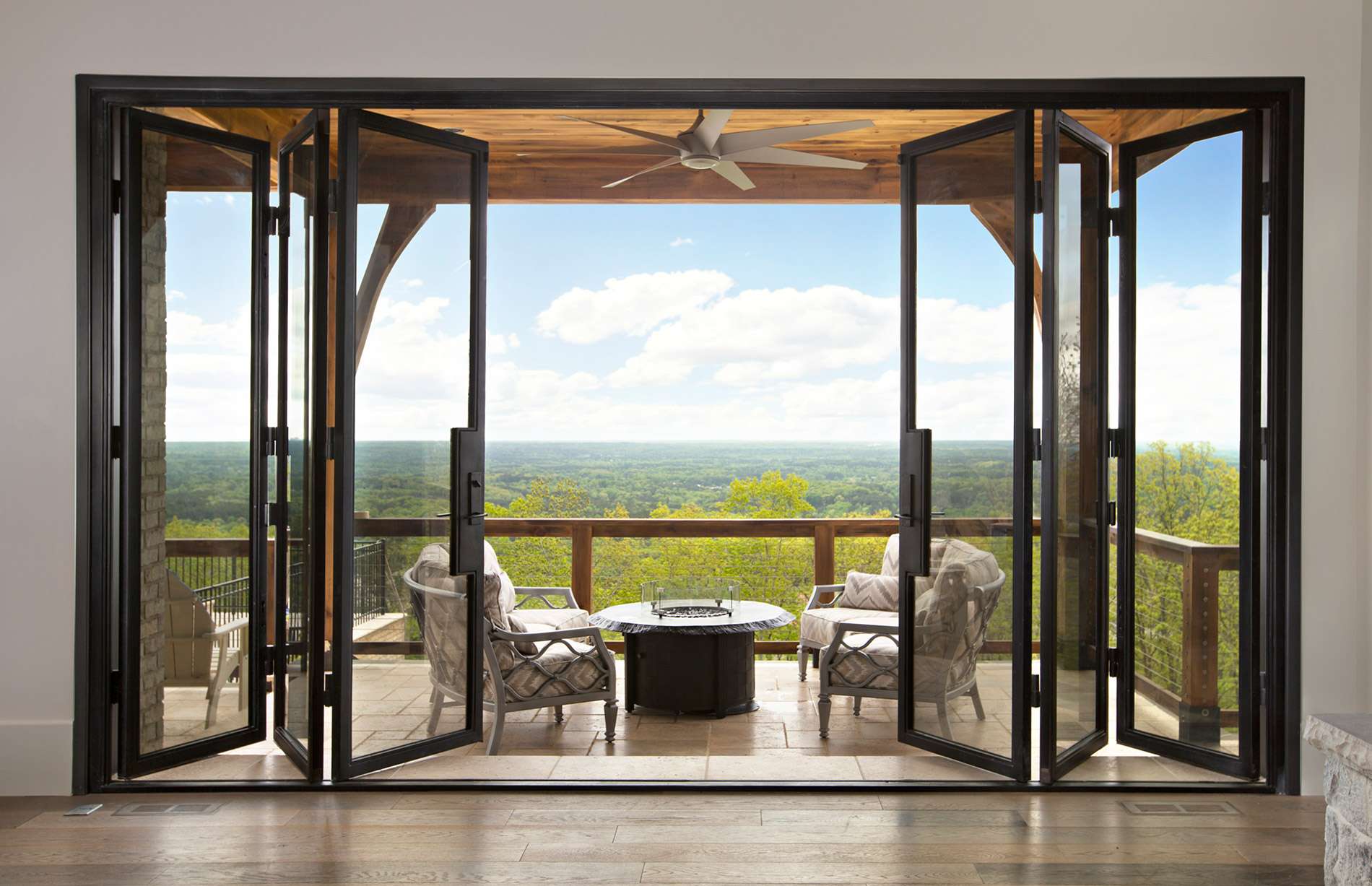 California living is centered around the great outdoors, from pristine sandy beaches to the rugged foothills—and with the addition of bifold doors from The French Steel Company, you can enjoy all the benefits of outdoor living while at your home or office.
Bifold doors are popular in California among our clients who wish to increase natural ventilation and light while making a seamless transition between their indoor and outdoor living spaces. Our exclusive collection of steel bifold doors is renowned for its design, craftsmanship, and quality of materials, and is built to the highest standards for energy efficiency, durability, and performance.
Call (866) 973-7065 to schedule a consultation for your Los Angeles, San Diego, or San Francisco home or business, or contact us online to request a quote today! 
What Is a Bifold Door?
A bifold door is a folding door system consisting of multiple glass panels that fold against one another in an accordion style. Depending on the span and placement of the opening, panels may fold to one or both sides, and an access door may be added for ease of movement between the two spaces when the bifold door is closed. When open they tuck neatly away, for expansive, uninterrupted views and a broader opening than a more traditional sliding or French door.
Benefits of Bifold Doors
Bifold doors are ideal for both residential and commercial applications and can be customized to suit any size opening. Benefits of our steel bifold doors include:
Indoor Air Quality
Particulates, allergens, and volatile organic compounds (VOCs) are often found in larger concentrations indoors than outdoors, lowering indoor air quality and triggering symptoms in those who suffer from allergies or asthma. Bifold doors allow for a greater exchange of air between the indoors and outdoors to help you and your guests breathe easier.
Safety and Security
Steel frame construction and built-in safety features, including multi-point locking hardware, tempered glass, and an inline tracking system that makes it impossible for an intruder to lift the door out of its frame, help to keep your property safe and secure.
Durability
The French Steel Company uses only the highest-quality materials for exceptional durability and performance. Our bifold doors are engineered to stand up to decades of normal use, weathering the elements in style.
Light Infiltration
Whether opened or closed, bifold doors allow natural light to flow in from the outdoors, helping to brighten small or dark rooms and creating the illusion of a bigger, brighter space by drawing the eye toward the outside.
Flexibility
Steel bifold doors can be configured to span the length of an entire wall or create access to a smaller backyard or patio. Doors may be opened partially or completely and to one or both sides of the wall. Our array of steel door finishes allows you to customize the look of your door to suit your preferences and decor and may open into or out of the room as desired.
Energy Efficiency
Bifold glass door panels can be double- or triple-paned to help prevent the transfer of heat between the indoors and outdoors, for the utmost in thermal efficiency.
Appearance
Our steel bifold doors are a luxurious addition to any home, with a modern, contemporary feel that will add beauty and value to your property.
Get Started with a Consultation Today!
The French Steel Company has been providing the finest quality steel windows and doors to customers throughout California since 2005. If you're interested in installing bifold doors in San Jose, Los Angeles, San Francisco, Fresno or San Bernardino, contact us today.
Contact us today to schedule a consultation for bifold door installation for your California home or business.