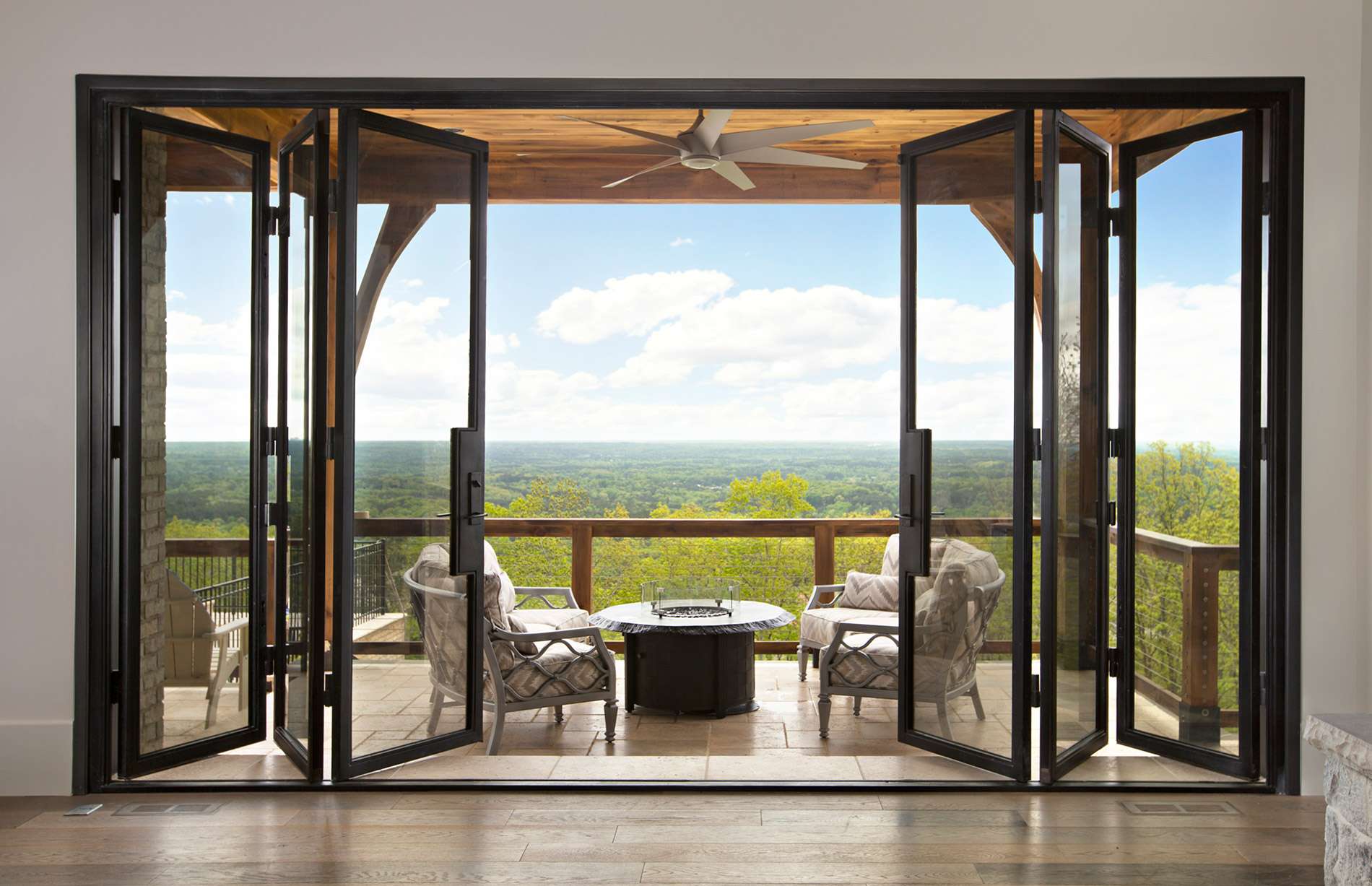 Bifold Doors Sales & Installation in Florida
Bifold doors open your home to expansive views and offer increased airflow. Our exclusive collection of steel bifold doors can help to transform your residential or commercial space, and each one is made from the finest quality materials for a new standard in beauty, durability, and performance.
Call (866) 973-7065 to learn more or contact us online to request a quote for bifold door installation in the Jacksonville, Fort Lauderdale, and Tallahassee areas. 
Benefits of Bifold Doors
Bifold doors offer a number of advantages over a more traditional French door or sliding door, adding beauty and value to any home or business. Solid construction and a modern, streamlined design have helped bifold doors to gain popularity among home and business owners looking for a unique yet effective way to elevate the look and feel of any room, with benefits that include:
Ease of Maintenance
Steel bifold doors require little maintenance aside from periodic cleaning. And since our doors are manufactured with only the finest quality parts and materials, installing bifold doors in Miami, Tampa or Orlando will provide you with years of trouble-free performance and reliability.
Security
Security is an important consideration for any home or business, and our steel bifold doors are designed to protect your indoor environment from the elements, pests, and intruders. Built-in safety features include a multi-point locking system, high-security hinges, and an inline tracking system that makes it impossible for potential intruders to lift the door and frame from the tracks. So whether you're adding bifold doors in Jacksonville or Sarasota, or anywhere else in Florida, you get a door that's built tough.
Light Transmission
Traditional doors limit the flow of light between the outdoors and indoors, but our steel bifold doors allow you to maximize the beauty of your Florida landscape whether your doors are opened or closed.
Energy Efficiency
Reduce your energy consumption by preventing heat transfer when bifold doors are closed. Our thermal glass may be either double- or triple-paned for exceptional durability and energy efficiency. Installing bifold doors in Tallahassee or Tampa helps keep those energy bills in check.
Versatility
Bifold doors have a lower profile than sliding or French doors, with maximum glass coverage to enhance your view even when closed. Doors can be customized to fit any size opening, can open fully, partially, and into or out of the room, and may include an access door to facilitate movement when closed.
Visual Appeal
In addition to the abundance of natural light and expansive views to the outdoors, steel bifold doors add a modern, streamlined appearance to any residential or commercial property. Choose from our distinctive array of steel door finishes, designed to enhance the exterior of your home and complement any decor.
Return on Investment
Steel bifold doors from The French Steel Company can endure decades of use with proper maintenance, and can pay for themselves over the lifetime of ownership with a reduction in energy usage due to the thermal benefits of the glass and framing.
Why Choose The French Steel Company for Bifold Doors in Florida?
Our company motto promises "Lasting Beauty for the Built Environment." It's easy to see why The French Steel Company is the bifold door supplier Florida homeowners prefer for sturdy, dependable steel doors and windows. Our exceptional team of designers and craftsmen will ensure the quality and performance of your bifold door installation, and we will work with you through each stage of the process to guarantee your complete satisfaction with the end result.
Contact us today to get started, or call us at (866) 973-7065 to obtain a quote for steel bifold doors in the Miami, Orlando, Jacksonville, Sarasota and Tallahassee areas.