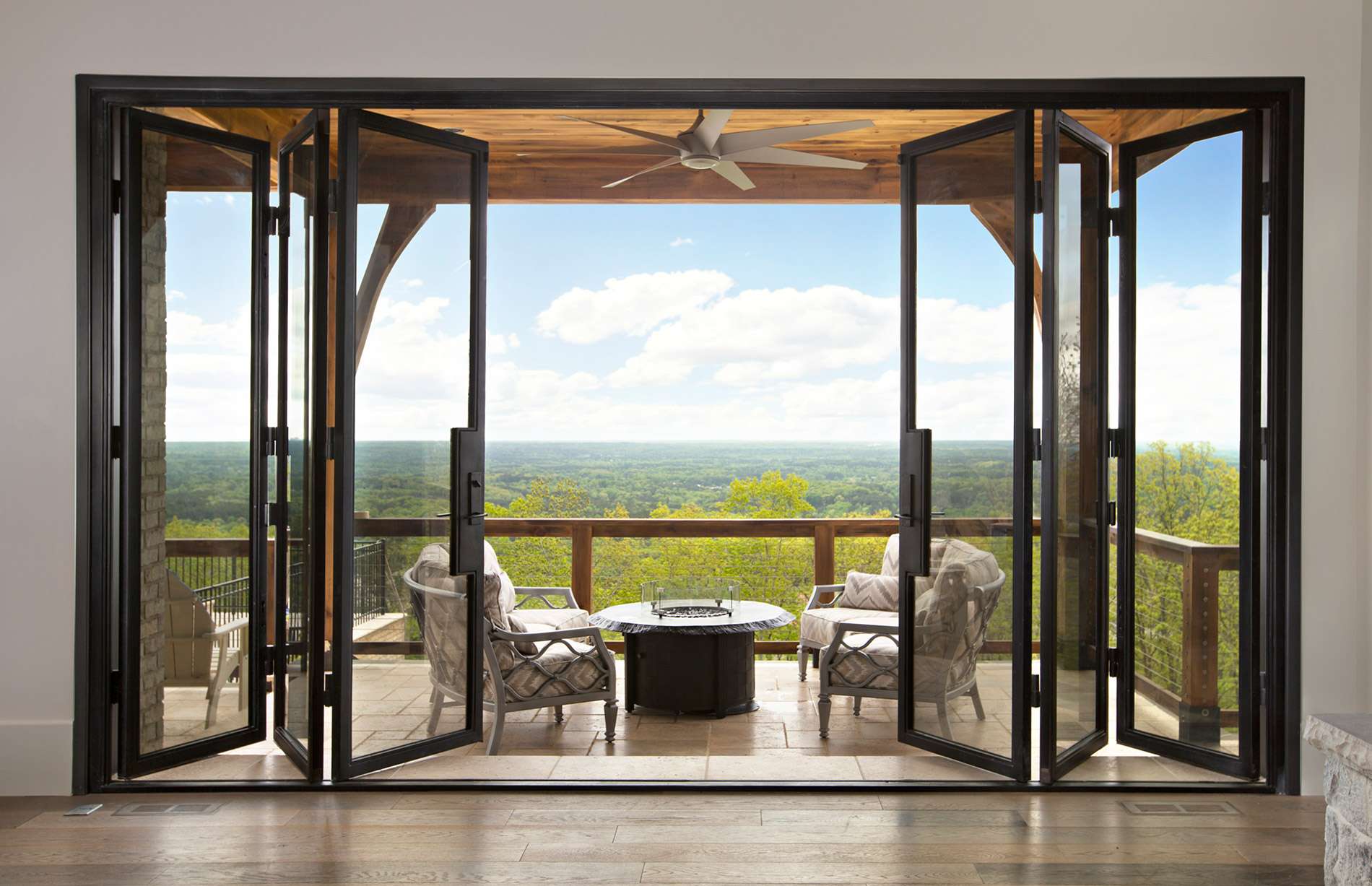 Texas Bifold Doors Sales & Installation
Steel bifold doors from The French Steel Company provide commercial and residential customers with a seamless view of the great outdoors whether opened or closed, and they can be customized to fit any size opening. As an alternative to a more traditional sliding or French door, bifold doors offer greater flexibility, security, and design options to enhance the beauty and functionality of any living space or workspace.
Contact us online to request a quote or call The French Steel Company at (202) 609-9835 to learn more about installing our custom bifold doors in Dallas-Fort Worth, Houston, Austin, San Antonio, and throughout Texas. 
Benefits of Steel Bifold Doors
Uninterrupted views, innovative security features, and unparalleled quality have helped make steel bifold doors popular in Texas. Benefits of these doors include:
Energy Efficiency
When the Texas summer heat and humidity strike, bifold doors can help to reduce energy usage and keep more of the cool conditioned air indoors. Glass may be either double- or triple-paned for exceptional thermal efficiency, minimizing heat transfer between the indoors and outdoors while creating the illusion of space even when the doors are closed. Homeowners who install bifold doors in Dallas can enjoy lower energy bills.
Enhanced Lighting
Bifold doors allow you to maximize the amount of natural light you bring into your home or office, with a greater glass surface area than a standard patio door. In more confined areas or rooms with fewer windows, bifold doors can make the room feel more spacious, light, and airy by drawing the eye to the outdoors. Install bifold doors in Austin, Texas, and enjoy the warm light of the sun year-round.
Safety and Security
Built-in safety features such as multipoint locking hardware, high-security hinges, and an inline tracking system render the door immovable from its tracks when closed. Bifold doors are engineered to prevent the infiltration of intruders, pests, and the elements. When you install bifold doors in Houston, you're making an investment in your home's security.
Durability
A variety of durable materials, including steel, glass, aluminum, and wood, are used in the construction of our bifold doors, which are built to last and withstand decades of use. We've heard from countless customers that installing bifold doors in San Antonio or El Paso was the best home improvement decision they've made because of the high-quality craftsmanship of our doors.
Improved Airflow
Enhance the quality of your indoor air by allowing the routine exchange of fresh, outdoor air. In addition to the benefits to your health, bifold doors allow you to experience the sights, sounds, and smells of nature for an overall sense of increased well-being. Adding bifold doors in Galveston is an easy, aesthetically pleasing way to freshen up any room.
Aesthetic Appeal
The sleek lines and minimalist profile of bifold doors provide a contemporary feel to any style of home, and our doors are available in an array of steel door finishes to suit your personal taste or complement your exterior. Enhance your home's beauty with bifold doors in Waco.
Return on Investment
Potential homebuyers will appreciate the quality finishes and superior craftsmanship of bifold doors, providing you with an excellent return on your investment when it comes time to sell your home.
Flexible Design
Bifold doors can span an entire wall, be configured to fit a smaller opening, or divide a room. Doors may be partially or fully opened or closed and can be equipped with a smaller access door to allow easy passage on cold or rainy days.
Have more questions about our bifold doors or looking to get yours in Texas? Contact The French Steel Company online today or call us at (202) 609-9835 to get your questions answered or to schedule a consultation.
Schedule Steel Bifold Door Installation in Texas
The French Steel Company was built on the principles of honesty, hard work, and integrity and has grown to become one of the premier suppliers of high-quality doors and windows throughout Texas. Our innovative design team and master craftsmen will ensure your bifold doors are manufactured and installed to the finest standards, to provide you with years of enjoyment.
Call (202) 609-9835 to schedule a consultation or request a quote online!