Urban loft apartments in city centers, rural farmhouses, and new ultramodern homes in the tech-savvy suburbs of Seattle and San Francisco do not display a shared design philosophy. However, in both residential and commercial environments, each architectural style can benefit aesthetically and functionally from black steel framed windows and doors. Whether your project involves a turn-of-the-century cottage or an industrial and ultramodern loft space, black steel framed windows and doors can complete the style while filling the interior with light and securing the property.
Why Are Black Steel Framed Windows and Doors Popular?
Black steel framed windows and doors are exceedingly popular because of their versatility and strength. Not only can steel be fashioned into various shapes, but it can also last decades with minimal maintenance when treated with a protective, corrosion-resistant coating. Stylistically, black steel framed windows and doors complement myriad architectural styles and are defined by timeless elegance.
Interestingly, black steel framed windows and doors predates steel as a building material. Consequently, the style calls back to a time in the late nineteenth and early twentieth century when wrought iron doors and frames were popular. Iron eliminated the need for much of the heavy wood that supported glass in previous windows, allowing architects to open up buildings and take more significant advantage of natural light. Steel offers considerable strength enhancements, surpassing iron and other metals. Additional improvements in glassmaking and insulation help to make black steel framed windows and doors the apex of home security and comfort.
Advantages of Black Steel Framed Windows and Doors

……………………………………………………….

Versatility
Steel frames can take on a wide variety of shapes while supporting expansive panes of glass.
Open Sightlines
The strength of steel allows for slender supports that extend already expansive fields of view.
Comfort
Double or even triple-pane glass separated by argon and thermally broken steel frames offer unmatched temperature control inside the home.
Sustainability
Steel is an entirely recyclable metal, and thermally broken frames and insulated glass save energy.
High Strength
The strength of steel provides excellent protection against the weather, helping to keep you, your loved ones, and your property safe.
High Security
The strength of steel and modern glass protects against those wishing to enter a property uninvited.
Black steel framed windows and doors provide homeowners with unparalleled clean sightlines. By incorporating enhancements such as argon gas between the glass panes, these windows effectively minimize condensation, ensuring clear visibility regardless of the weather conditions—rain or shine, summer or winter. Moreover, they offer the additional benefit of enhancing soundproofing to improve home privacy.
Custom Black Steel Framed Doors and Windows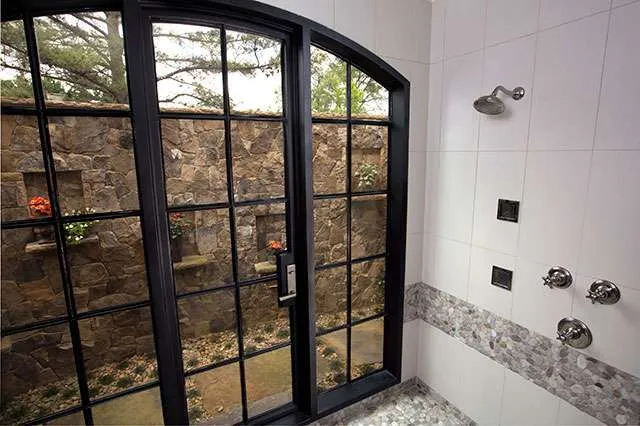 Black steel framed doors resist moisture inside and outside of the home.
There should be no need for compromise regarding a home's chosen style. Custom steel windows and doors offer the perfect solution, allowing homeowners and designers to match their vision precisely. The French Steel Company is a national leader in providing high-quality, custom-built black steel framed windows and doors—from hurricane impact windows designed to withstand colossal storms to modern bifold doors that seamlessly connect indoor and outdoor spaces, whether it's the mountains of Northern Georgia, the majestic Rockies, or a beautiful Bahamian beach.
To get started with your custom black steel framed windows and doors, contact us, find a dealer near you, or visit our showrooms in Atlanta,  Washington, D.C., Chicago, or Boca Raton. We look forward to working with you on your next project.
French Steel's doors and windows transform both the appearance and livability of a home. Their beauty is more than skin deep, combining the durability and timeless look of steel and glass with modern thermal breaking that improves the efficiency of home heating and cooling.
For more information on how bifold doors are installed, contact French Steel to start planning your home transformation.