If you're looking to enhance the thermal efficiency of a home, modernize its aesthetic, and minimize air and moisture infiltration, a residential curtain wall system is an excellent way to achieve that goal in a single retrofit.
But how does a residential curtain wall system work, and how does it offer all of these benefits? Today, we'll look at the basics of curtain wall systems as they're commonly used in residential homes, why you might want to use them over other approaches to reinforcing efficiency or minimizing infiltration, and more.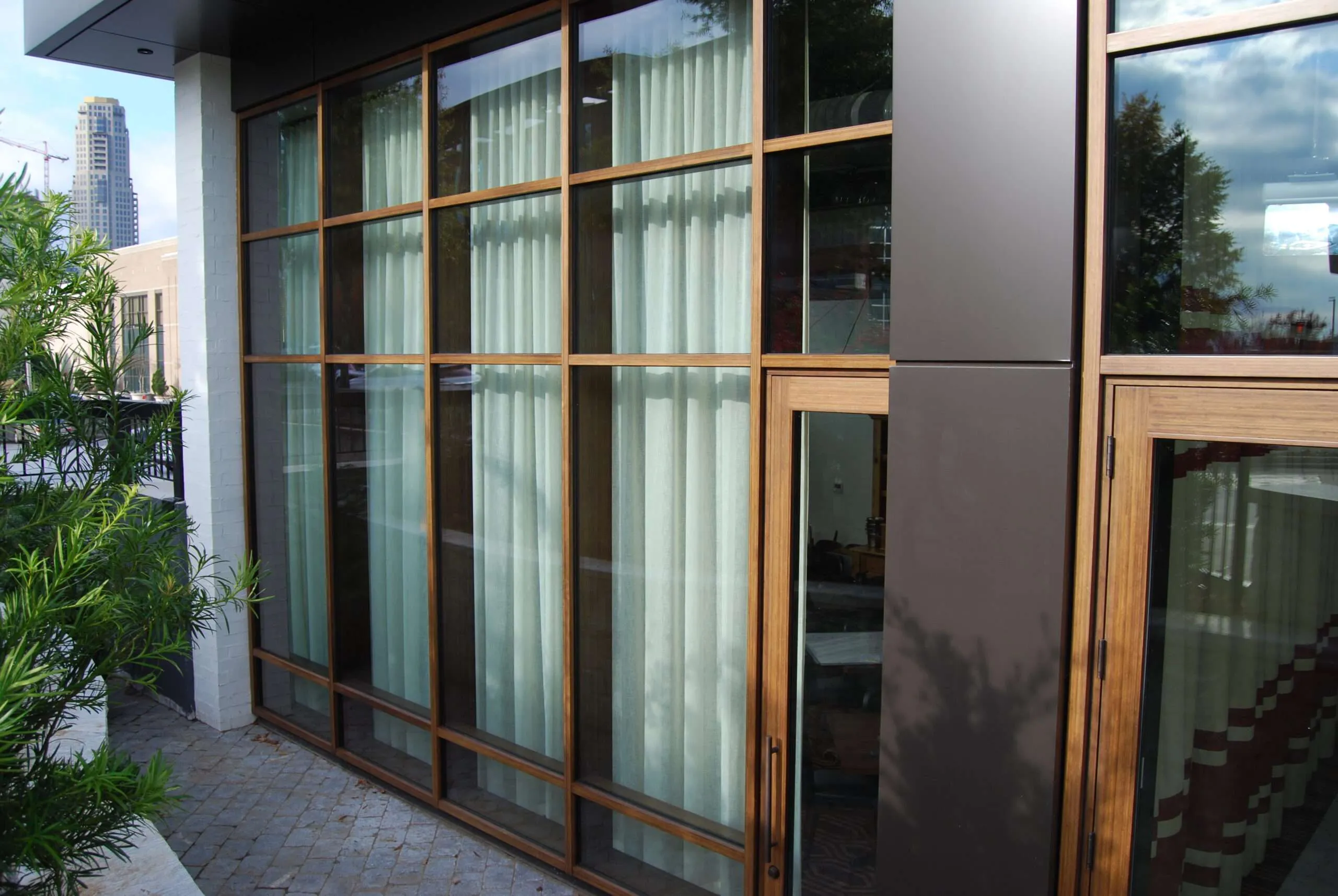 What is a curtain wall system?
Put simply, a curtain wall system is a system of nonstructural glass and metal facade that is designed to offer enhanced resistance to heat transfer, air and moisture infiltration, corrosion, and damage from unexpected forces such as earthquakes, intense wind, etc. Curtain wall systems are built with this goal in mind above all else, and so the system of metal and glass is engineered to disperse the forces and loads that might threaten your home while being as well-sealed as possible to keep moisture and air out.
If you haven't seen a curtain wall system in place before or don't know what they look like, you can think of a glass and metal shell around your building. Curtain walls can be used as a facade attached over existing structures, assuming they can bear the added weight or can be used to completely replace walls that don't bear loads for a "glass home" aesthetic.
Different curtain wall systems will rely on different principles and technologies to achieve their goals. For example, some are pressure-equalized, designed such that pressure prevents the infiltration of air and water from the outside, while others are simply sealed like any other glass structure. A third type, water managed systems, incorporates a system of drains and weeps so that water can pass into the system but will drain away.
Why use residential curtain wall systems?
A curtain wall system offers significant gains in energy efficiency and resistance against the various forces that might damage your home while offering a unique glass and metal aesthetic that can't be emulated with something like traditional weatherproofing and insulation. The biggest benefit is, of course, is the unparalleled ability to keep moisture and air from passing into the home through the curtain wall's protected surface.
If you need to manage indoor air quality or prevent the corrosion of certain parts of an older home, a curtain wall is almost unmatched as a solution. Some curtain walls that are installed over existing structures can also be a great way to achieve modern insulation without having to destroy or risk damage to old structures.
Choose The French Steel Company for Curtain Wall Installation
If you'd like to learn more about how residential curtain wall systems work for homes, the experts in windows and steel at The French Steel Company can help. Our team can guide you through the benefits of curtain walls and help you take the next step toward enjoying those benefits for your own home or residential properties.
Contact The French Steel Company today by dialing 202-609-9835 or by sending us a message online.
French Steel's doors and windows transform both the appearance and livability of a home. Their beauty is more than skin deep, combining the durability and timeless look of steel and glass with modern thermal breaking that improves the efficiency of home heating and cooling.
For more information on residential curtain wall systems, contact French Steel to start planning your home transformation.