Windows and doors are critical elements of home comfort, security, beauty, and value. If you're thinking about upgrading your windows and doors, one of the first decisions you must make is what material to install. While steel may initially evoke images of factories and warehouses, it can add rich architectural flair and crisp, clean lines to residential buildings as well. Here's how installing steel doors and windows can improve your home's aesthetic quality and resale value.
The Beauty of Steel Doors & Windows
High-quality exterior steel doors and windows can transform the look of any home. Here are some ways you can customize the upgrade to meet your personal aesthetic preferences:
Operating styles: Steel doors are available in numerous operating styles, including hinged, French, sliding, and bifold. This provides versatility when selecting a new entry or patio door. Steel windows are also available in many configurations. Specialty-shaped and oversized picture windows are especially popular, though operable versions are also available, including casement, awning, and hopper.
Finish options: Steel windows and doors are traditionally available in a matte black finish, but other options include various shades of pewter, copper, and bronze. These finishes look spectacular in modern, minimalist, and historic homes. No matter what color you prefer, be sure to select a zinc-coated product with a clear-coat finish to withstand the elements.
Hardware: While it serves a functional purpose, window and door hardware can also add to your home's beauty. Handles, locks, knobs, and levers are all available with incredible craftsmanship and numerous design options to suit your preferences.
Glass: Window glass technology usually relates to efficiency, but privacy glass is purely aesthetic. Different textures are available that allow natural light to enter while ensuring privacy in bathrooms, closets, and other areas of your home.
The Value of Steel Windows & Doors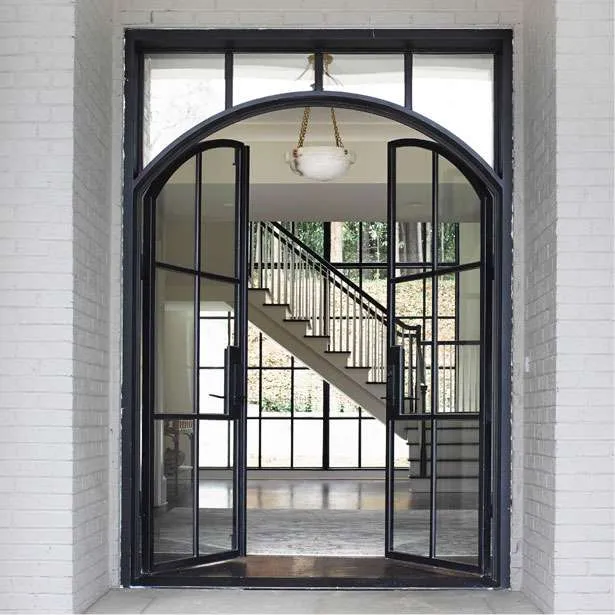 Steel windows and doors offer several value-enhancing benefits you don't want to miss. These include:
High return on investment: Home improvement experts agree—replacing your exterior doors and windows gives you the best bang for your buck. For instance, it's estimated that replacing your existing entry door with a steel door can provide nearly a 100 percent return on investment. This means the amount by which your home value increases is almost equal to the cost of your new entry door. Few other home improvements offer such an impressive return on investment.
Energy efficiency: Old exterior doors and windows can be a tremendous source of energy loss. When coupled with high-performance glass, steel windows and doors offer excellent thermal efficiency. This helps your monthly energy bills go down, adding to the overall value of your investment.
Longevity: The value of a home upgrade increases the longer it lasts. Thanks to advanced engineering and fabrication techniques, today's steel windows and doors are likely to outlast the structures in which they are installed. Then, the material is recyclable at the end of its lifespan, making steel doors and windows a sustainable choice as well.
Strength and durability: The structural integrity of steel is unmatched by other window and door materials. This is an essential attribute if you hope to install an expansive window wall in your home. Steel frames with high-quality finishes also have low repair and maintenance requirements, protecting your family against vandalism, break-ins, high wind, and fire with minimal effort on your part.
As long as your new steel doors and windows are installed with care and precision, you'll enjoy unrestricted access to home beauty and value for years to come.
French Steel's doors and windows transform both the appearance and livability of a home. Their beauty is more than skin deep, combining the durability and timeless look of steel and glass with modern thermal breaking that improves the efficiency of home heating and cooling.
For more information on increasing the value of your home with steel doors & windows, contact French Steel to start planning your home transformation.