If you've ever sipped coffee in a cafe while looking out to a garden through a tall glass wall, you were likely enjoying the scenic view through a curtain wall. These are non-structural, non-load-bearing exterior walls that allow for the use of lots of glass in their construction and sweeping views as a result—though not to be confused with window walls.
No matter if they're installed in a commercial or residential structure, curtain walls offer incredible views and abundant light. They also provide thermal efficiency, so you can save on energy costs and admire the weather outside without feeling summer heat or winter chills. As these are largely non-structural, their design is limited only by the wall's dead load weight, the structure's height, and your vision.
Different Curtain Wall Types At-A-Glance
| | | |
| --- | --- | --- |
| Curtain Wall Type | Stick Curtain Wall | Unitized Curtain Wall |
| Installation | Field-assembled onsite | Factory-assembled offsite |
| Construction | A modular system of mullions and rails assembled onsite | Pre-fabricated unit panels installed onsite |
| Cost | Typically lower upfront cost, but higher labor costs | Typically higher upfront cost, but lower labor costs |
| Speed of installation | Slower due to onsite assembly (Further explained below) | Faster due to offsite fabrication (Further explained below) |
| Maintenance | Easier to maintain and replace individual components | More difficult to replace individual components |
| Building Height | Suitable for low to medium height buildings | Suitable for high-rise buildings |
| Thermal Performance | May have more potential for air and water leakage due to onsite assembly | Can have better thermal performance due to factory fabrication and quality control |
.
Below we will discuss the two different types of curtain walls in more detail.
Stick Curtain Walls vs. Unitized Curtain Walls
There are a few differences between the two curtain wall types. But largely, the difference between the two is whether they come as smaller panels that screw together onsite or arrive as a single piece that is hoisted into place during installation.
Stick Curtain Walls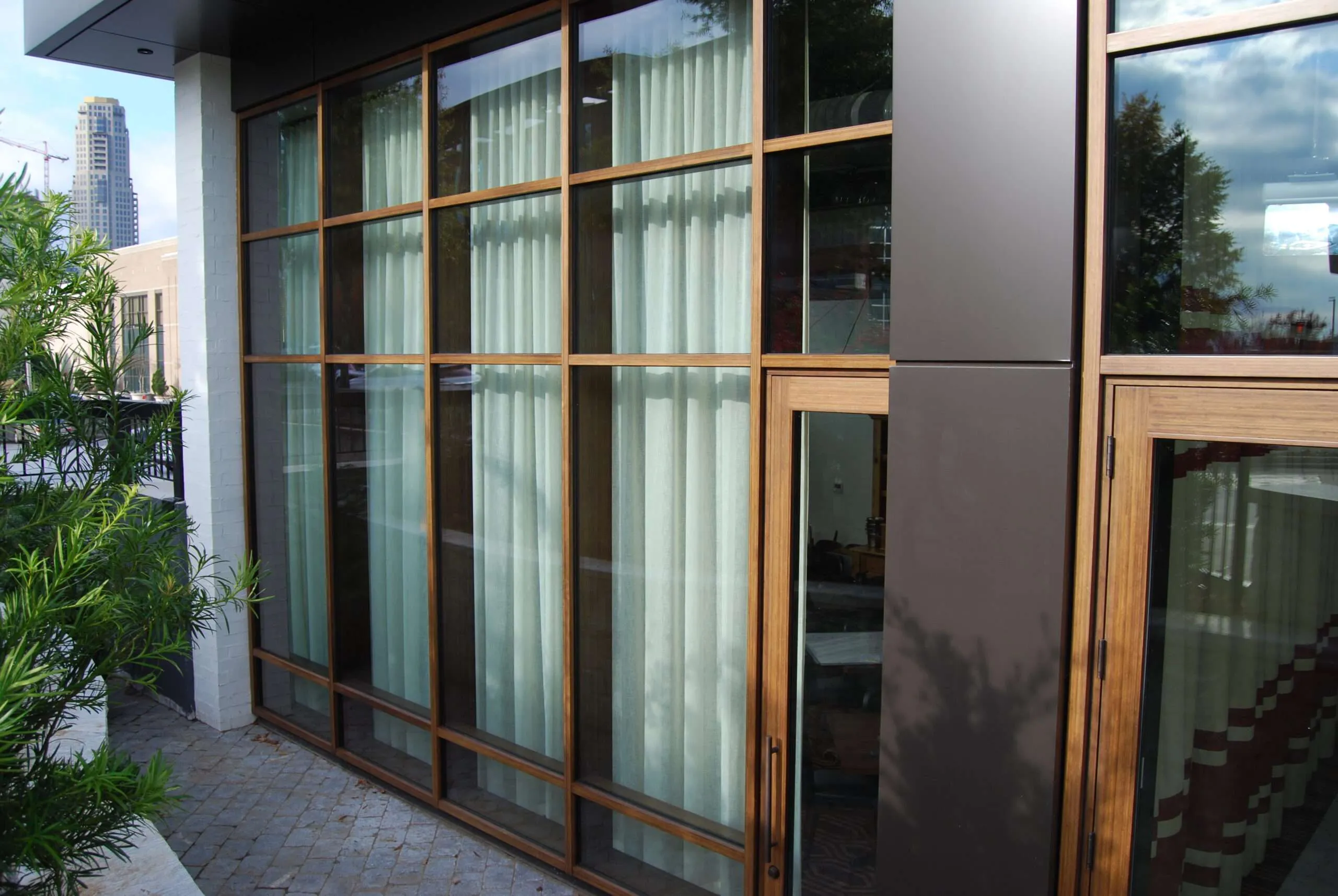 Stick curtain walls are made from metal transoms and mullions, along with glass panels that are assembled onsite. The transoms anchor to concrete slabs or building framing, and the mullions are slotted between these transoms, holding the glass panes in place. The mullions are the sticks that give this curtain wall type its name and are an important design element, as the attention paid to these "sticks" will determine whether the final curtain wall has a symmetrical appearance or not.
These materials are shipped separately to your property. Installers onsite will then arrive at your home or business and construct the curtain wall piece by piece. This means there is very little lead time required between ordering, delivery, and final assembly. Since this system is modular, it can be built and adjusted in situ as needed. This allows it to be fitted to existing spaces that may potentially have unusual dimensions. Unusual geometries, like curves, can also be easily accounted for during the assembly of a stick curtain wall. However, there may be certain limits depending on the design of the transoms and mullions. Also, the individual pieces are transportable without heavy equipment, meaning they can be moved between different areas without a crane or lift.
Choose a stick-built curtain wall type for projects that:
Don't allow time for offsite manufacturing and shipment.
Have unusual dimensions or shapes that need custom fitting on site.
The job site or budget limits the use of heavy equipment.
Despite dispensing with lead times for manufacturing, a stick curtain wall type requires an extended assembly period onsite. However, there is an option that installs much more quickly, provided the project has enough time to fabricate the curtain wall offsite and ship it to the site.
Unitized Curtain Walls
Unitized curtain walls are single-piece curtain walls that are cut, fabricated, and assembled with glass in a factory offsite. They are then shipped as complete, unitized sections to the job site to be installed. They are lifted into position using heavy equipment and anchored to the slab or framing structure. Since these are shipped in one piece, installation is much quicker. It is simply a matter of positioning these pieces and bolting them into place.
The disadvantage is that the lead time needed is much longer. With offsite assembly taking a significant amount of time and following assembly, these large pieces need to be shipped to the site. If there is damage during transit or errors in fabrication, then this time is doubled to allow for reworking.
However, installation can be as quick as a single day with skilled and knowledgeable site surveyors and fabricators. This is a serious advantage where the time allowed for construction on site is limited. An example is the Lake Tahoe region, where construction is limited to the dry season to prevent soil from being washed into the lake.
Unitized curtain walls also have fewer seams than stick curtain walls, providing enhanced energy efficiency and protection against exterior elements like rain.
Property owners should choose a unitized system for larger projects that need:
Simple straight and square curtain walls that are easily dimensioned.
Faster installations due to onsite considerations like crowds or environmental control.
Are in high wind or other weather zones that require enhanced protection from moisture and wind penetration.
The choice between a unitized or stick curtain wall type depends on practical considerations. They both allow for elegant, luxurious designs that let the view and the light in while keeping out the weather. It is the needs of construction rather than aesthetic design choices that mean one will work better than the other. Whatever the practical considerations are for curtain wall type, property owners should choose curtain wall builders and designers with experience and craftsmen dedicated to a job well done.
So if you are looking to transform the look and feel of your space while working with installers that are second to none, The French Steel Company is a perfect fit.
Getting Started With The French Steel Company
The French Steel Company manufactures and installs elegant French Steel doors, windows, curtain walls, and other top-quality French Steel products. Our doors and windows don't just enhance the appearance of your property, they also improve livability by providing energy-efficient solutions with modern thermal breaking technology. With offices in Atlanta and Washington, D.C., we offer nationwide shipping and installation services, so you can enjoy the benefits of our products no matter where you are in the U.S.
French Steel doors and windows enhance the appearance of commercial properties and spaces with the timeless look of steel-framed glass pane doors and windows. These doors and windows capture the lasting elegance of iron work while offering modern thermal control and security features.
For more information on the different curtain wall types and what will work the best for your situation, Contact Us today and let us help you transform your space with beautiful French Steel.